10.5 Tips to Market Your Rental Property
Every day that your rental property sits vacant is profit lost. Jon from Simple Property Management in Grand Rapids offers 10.5 tips to market your rental property to rent it faster.
1. Unit is Move-In Ready
Move-in ready means all repairs have been completed, and all tools have been removed from the property. The home should be clear of brooms, tools, and trash. First impressions matter. You want to showcase the property in its best condition, so this should be done before taking any marketing photos.
2. Unit is Hotel Clean
Whether you are using a professional service or doing it yourself, thoroughly clean the rental property.
3. Take Nice Photos
After you have prepped and cleaned the property, it is time to shoot your marketing photos. Good quality photos matter when advertising your rental property, so we recommend using a digital camera rather than your smartphone. Newer phones can take great quality pictures but tend to have some issues in darker properties. Apple recently added a wide-angle lens to the iPhone, so make sure you are using it if that is your camera of choice. If there isn't a lot of light in the house, a digital camera with a wide-angle lens is going to give you better results.
Take your photos in landscape orientation only.
Don't forget to watermark your photos. This prevents people taking photos from your listings and creating fraudulent listings with them.
Edit your photos and brighten them up if you can.
4. Video Tour Uploaded to YouTube
Use your smartphone to record a walkthrough video tour of the property. Make sure you are recording in landscape (hold your phone sideways) and using the wide-angle lens which will allow you to better capture the feel of walking through the home.
Upload your video tour to YouTube so that it is easily shared with a link. When someone calls or emails you about the property, you can quickly share the video link with them. A walkthrough video allows you to get your property in front of more potential tenants quickly and easily. Use the video to prequalify people so you are only scheduling property showings with people that are very interested.
People love the ability to view properties from the comfort of home on their own schedule. It allows them to narrow down the properties they want to see in person which saves them time and gas.
Here is an example of the video tours we do for the properties we manage at Simple Home Property Management.
5. Record a Matterport Tour
A Matterport Tour is a 360 tour of the property. It allows people to digitally walk through the property.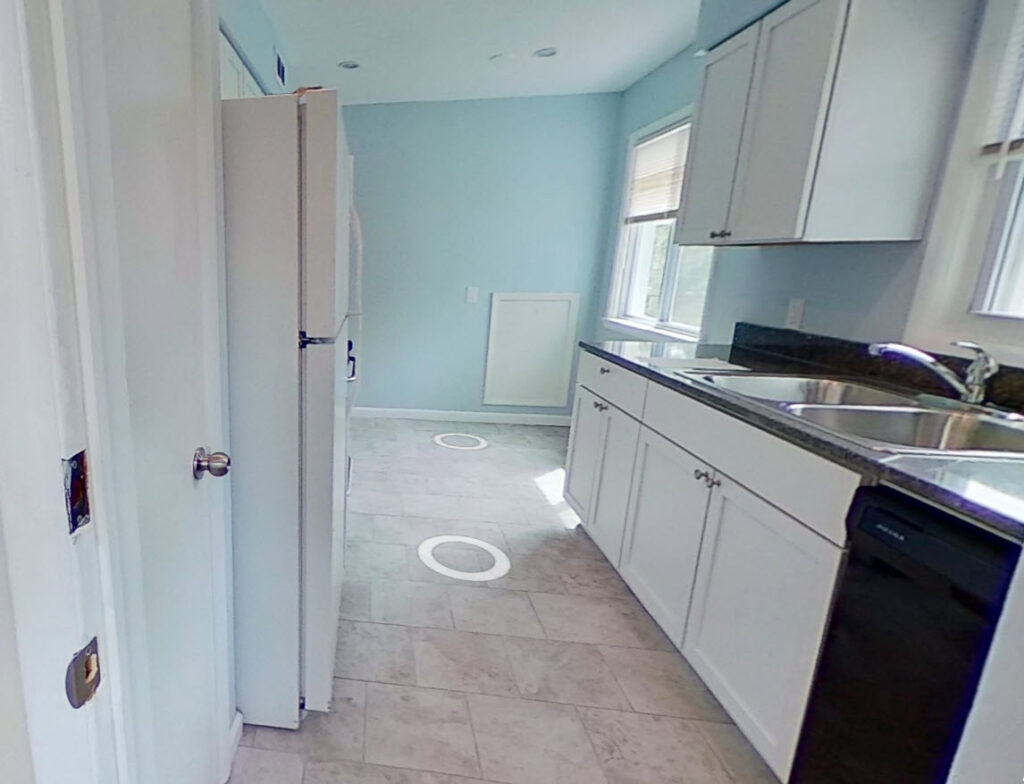 You will need a camera designed for these 360 videos. You can find these cameras available from multiple sources online. Matterport offers its own selection of cameras that start at $299. If you only have one or two units, it might make more sense to pay someone to do these videos for you rather than invest in the necessary equipment.
6. Clear, Concise Descriptions
Don't make your descriptions too long. People will most likely only read the first paragraph of your description. Begin your description with the more important details like the number of bedrooms and bathrooms and the date the unit is available.
If something has been recently updated, make sure to mention it. Highlight improvements such as a newly remodeled kitchen, new appliances, new paint, new cabinets, new countertops, or new flooring.
The parking situation can be important, so make sure to mention if it is on street, off street, etc.
Some of the more common amenities people are looking for include washer/dryer hookups and central air, so make sure to include them. If your unit doesn't have air conditioning, you can leave that out of the description.
If utilities are included, make sure to list out which services you take care of. For example, add a statement such as "Landlord pays electric and water." If you own a single-family rental, utilities are not typically included in the rent.
Include application guidelines in your ad, especially if you are in the city of Grand Rapids. You must follow the application ordinance that was passed several years ago.
The City of Grand Rapids adopted a residential rental application fee ordinance effective since November 7, 2018. The ordinance establishes rules for the collection and return of rental application fees and has requirements regarding documentation and disclosures in addition to those required under state and federal laws. – RPOA
It is important to know the laws and ordinances that apply to your rental property. The advantage of having a property management company taking care of your investment property is knowing that you are complying with local, state, and federal laws and ordinances.
7. Price It Right
When pricing your rental property, you want to look at comparable properties and price it realistically. Pricing it too high can cause it to sit on the market significantly longer. Pricing it too low means you are leaving some profit on the table. Market rate can be affected by several factors including the time of year, fluctuations in demand and supply in the area, etc. Your local property management company has extensive knowledge of the area's rental market. They know what rent rate will maximize your return and fill your vacancy quickly.
8. Pay Zillow
Paying Zillow to list your rental property on multiple websites is worth it. There is a free plan if you only have one property but check to see what is included as it is constantly changing. It is worth paying for the exposure you will get from this listing.
Other listing opportunities
Stay away from listing on Craig's List because there is a lot of fraud.
A Facebook Marketplace listing will not necessarily create a lot of inquiries, but it does makes it easy to share your property on your Facebook Page. You could just as easily create your own post about it and link to your Zillow listing.
Utilize your network of local contacts and friends. Share your listing with them. They may know someone that is thinking about moving.
9. Contact Past Prospects
Reach out to prospective residents that have contacted you in the last 30-60 days. Give them a call or email them a link to let them know you have a new property ready to rent.
Contacting people that you spoke with a year ago can also be a good idea. They may be unhappy where they are and thinking about making a change.
10. Answer Those Phones Calls, Texts, and Emails
When inquiries start coming in you want to respond quickly with details about the property. Write up the description once so you can easily copy and paste the information into your emails or text messages.
Tip: If you don't want to list your personal phone number in your advertising, you can get a Google voice number for a month or two for relatively cheap.
10.5 Group Showings
Set a date and time you will be available to show the property. Treat it like an open house, and include the details in the emails and texts you are sending out to people that inquire about the property.
If you cannot schedule a group showing, have the prospective tenant confirm with you two hours before the showing. This will reduce the number of no-shows. In our experience a large percentage of people will not confirm or show up. This is why we believe scheduling a group showing is the best use of your time.
Looking for a property management company in the Grand Rapids area?
Let us take the worry and hassle of managing a rental property from you. Our expertise in the Grand Rapids rental market and proven marketing strategy will help you get the best market rate on your investment property. Feel free to reach out to Jon at jon@simplepmgroup.com or (616) 329-6318.