June 2022 Grand Rapids Rental Market Update
The Rental market in Grand Rapids is still strong
The summer months are always a peak season for the rental market, and this year is no different. One factor that makes this a hot time for moving is the fact that families want to move and get settled in before the next school year. We do not anticipate seeing the demand for rentals slowing until we approach the Fall season. As interest rates go up, the rental market should grow stronger as people are priced out of the option to buy.
Grand Rapids, MI Rental Market
For April 2022, you can see there is a dip for one- and two-bedroom units. Note that this data comes from the late winter months.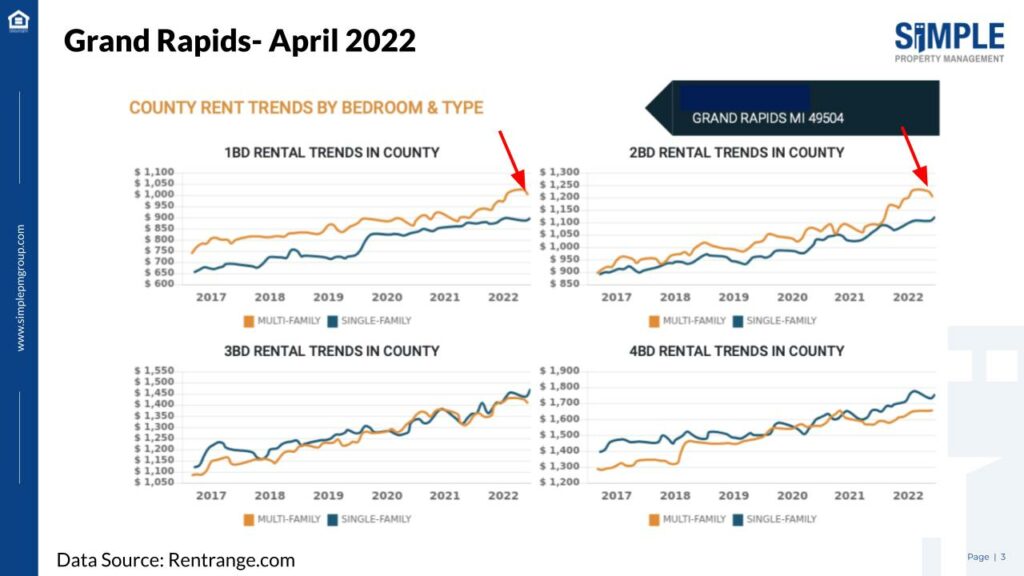 In May 2022 we see the one- and two-bedroom units trending back up. We have seen an increase in rents for these units as well. This data tells us the market is still strong. The 12 month change in rental trends for rent increased $67-$97 depending on the area, and that is good news for our Grand Rapids rental market.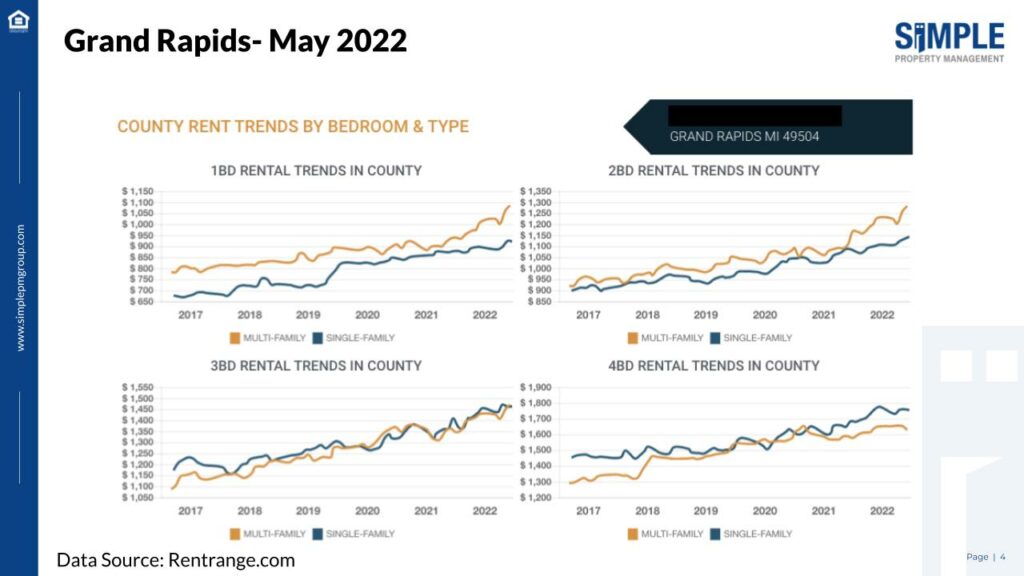 Wyoming, MI Rental Market
The Wyoming market is especially strong and has seen a 12 month rental trend increase of $94 which is more than in Grand Rapids.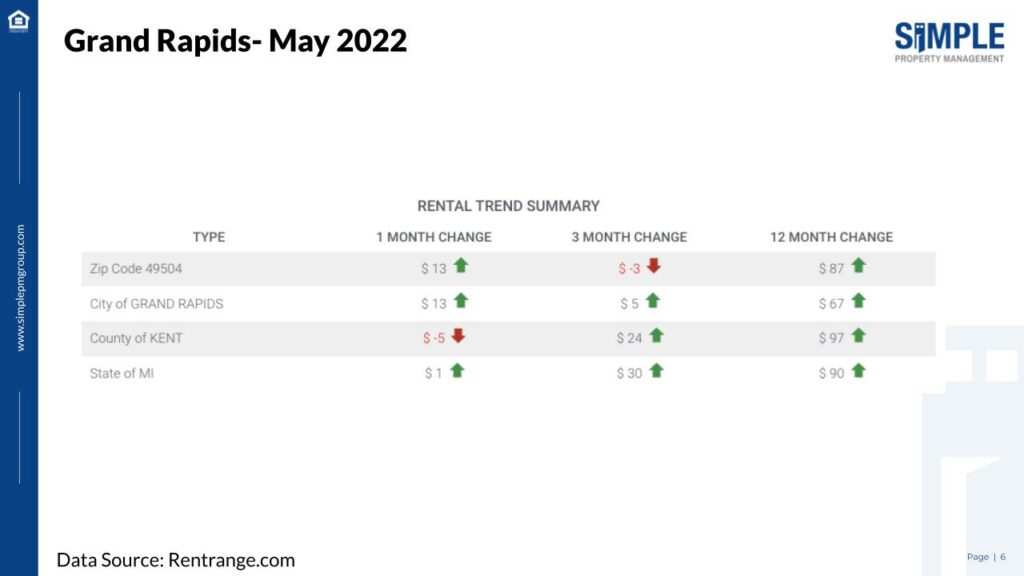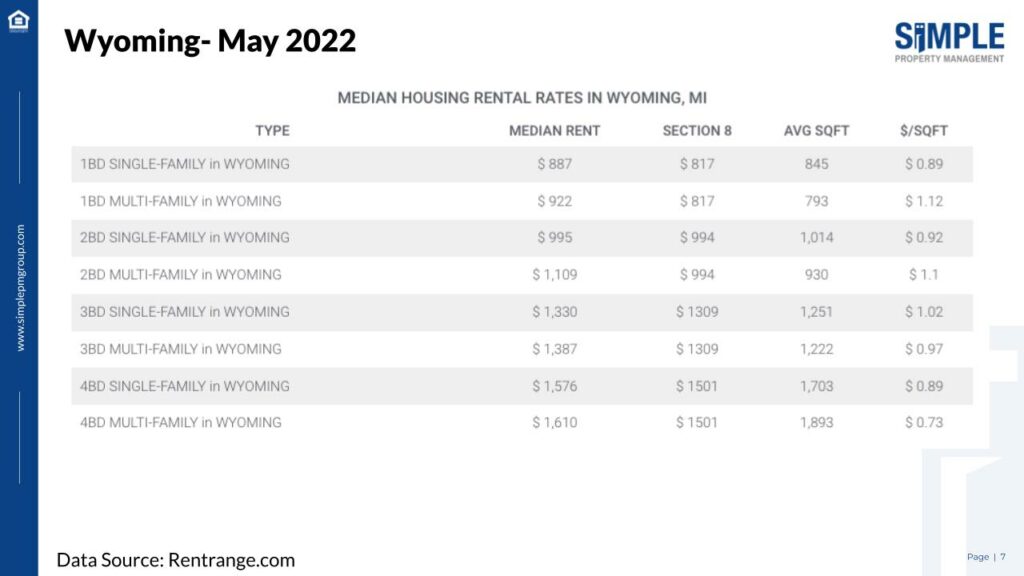 According to Zumper, 1- and 2-bedroom apartment rents are up 12-14% year-over-year. This is great news considering maintenance costs continue to rise.
Residents are looking for amenities
We are increasingly seeing residents looking for washer/dryer hookups. Because it is summertime, residents are also looking for central air in rental properties.
Expect a small slow down in scheduled showings around July 4th
Being this is a popular holiday for traveling, we expect the number of showings to be lower in the week surrounding the July 4th holiday. Showings should pick back up after the holiday.
Foreclosures are still low
Data from the National Delinquency Survey shows the foreclosure rate is 0.19% compared to the quarterly average of 0.41%.
Allowing pets is strongly encouraged
Grand Rapids, MI was recently ranked the 20th fastest growing dog-friendly cities in the US. Potential tenants are searching for pet-friendly rentals, and we encourage you to consider accepting pets in your rental property. If you have concerns about this, please reach out to us.
Maintenance costs continue to rise
Supplies for some vendors have significantly increased, and we are seeing that cost passed on to the customer. For example, one of our HVAC vendors told us that a 2lb refrigerant with leak seal for an air conditioning unit can gone up from $80 to $170 in a year.
Interest rates are rising
If your income threshold was 2.5 times the rent amount, you might want to consider changing that to 3 times because of the current inflation situation. Residents are spending more on gas and groceries. We raised our threshold to three times the rent amount, and it has worked out well for us.
Goodbye CERA
The final date for CERA applications is June 30, 2022. We have not had as many people using CERA lately. We are still getting them in, but it has decreased significantly.
We expect the eviction diversion program, a West Michigan-based program that provides funds to renters, to start up again. We will have to see if they make any changes to this program based on what they have learned from the CERA program.
Looking for a property management company in Grand Rapids?
Feel free to reach out to Jon at jon@simplepmgroup.com or (616) 329-6318.