March Grand Rapids Real Estate Rental Market Update – Spring 2022
How is the rental market in Grand Rapids going into Spring 2022?
Days on market is going down
A limited rental supply coupled with a high demand in the Grand Rapids area is not only causing rent rates to increase, but also reducing the days on market.
"In the next three years, Kent and Ottawa counties combined will need just shy of an estimated 40,000 new homes and rental units just to satisfy demand, the equivalent of building more than 200 new units every week. ".- Source: WZZM13
Rents are starting to rise from winter lull
Spring is always peak season for the rental market, and the data shows it is no different this year. People like to make plans to move in the Spring or early Summer. This is especially true for families that want to be settled in a new area before the Fall school year. High demand for rentals at this time of year can allow for rate increases, and we are seeing this trend in the data.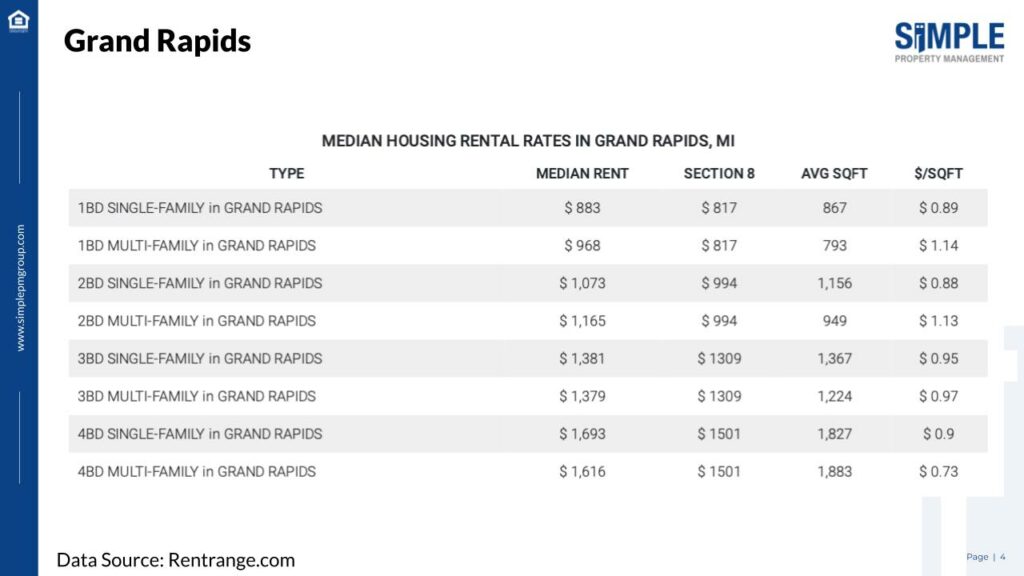 County Rent Trends
Looking at the data from Rentrange.com, you can see that the county rent trends still show a steady increase. One- and two-bedroom, multi-family units have seen a greater increase recently. This may be due to renters being more attracted to the amenities like gyms that renting in a large multi-family complex offers. Looking at the 3- and 4-bedroom rental market, the single-family home market rent trends are higher.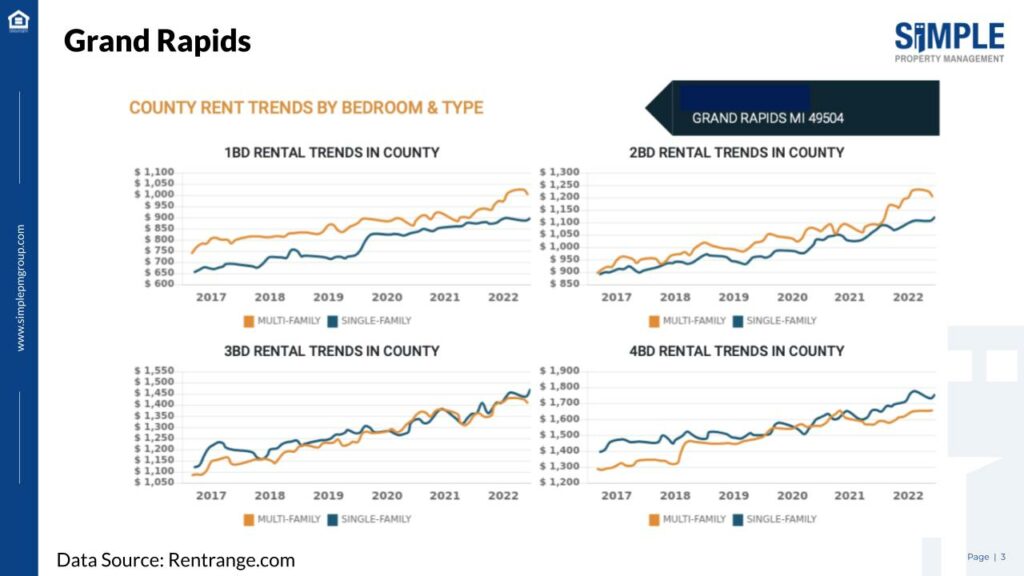 Overall the rental market in Grand Rapids is really good
What does that mean for you, a real estate investor in Grand Rapids?
You should not have a problem finding quality tenants from the pool of people looking for housing. Grand Rapids was recently on Livability's Top 100 Best Places to Live list in 2020 (#21) and 2021 (#53) and will continue to enjoy growth as people discover the incentives offered to people starting a business or expanding an existing one here.
As of March 2022, the median listing home price in Grand Rapids, MI is trending up 17% year over year.
Filling your vacant property quickly means less time without rental income. Until the number of units in the area is significantly increased over the next 3 years, your rental property will continue to be in high demand for the foreseeable future.
Looking for an experienced property management company in Grand Rapids?
Feel free to reach out to Jon at jon@simplepmgroup.com or (616) 329-6318.