October 2022 Grand Rapids Rental Market Update
Jon from Simple Home Property Management Group discusses the current status of the rental market in the Grand Rapids, MI area as we head into the winter months.
Rental Rates in Grand Rapids
Rental trend data shows that the rent rates have come down a little. There are new units now on the market in the area which will pull down the rates a bit. Zip code 49504 was an exception, and rent rates in that area did trend up. Despite the small decrease we are seeing, the overall 12 month change was great.
Looking at the county rent trends by number of bedrooms and unit type, you can see the rent rates are decreasing. This is typical for the Fall/Winter season.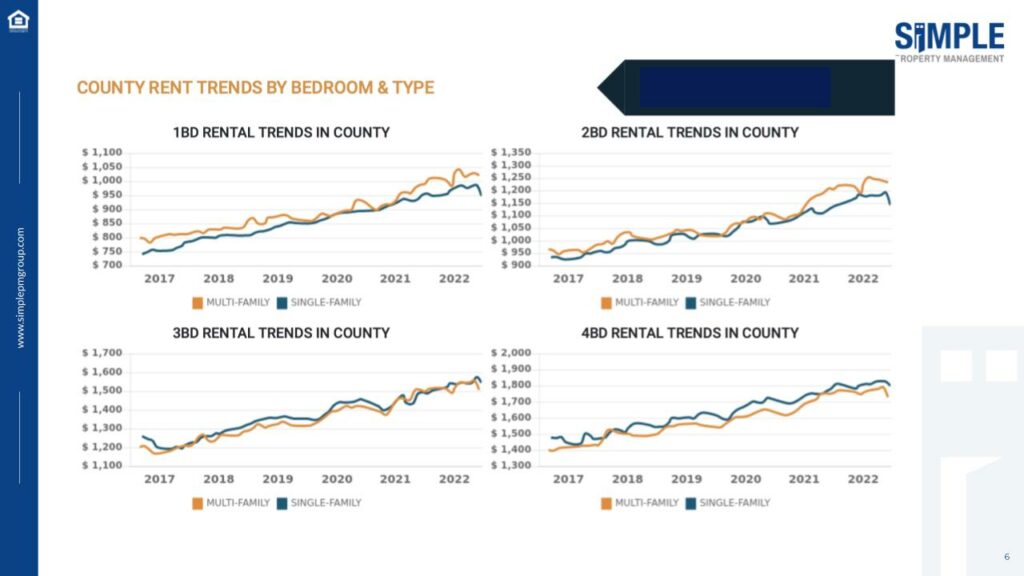 Collections of rent are up at the 95-96% which is the best we have seen since September 2019. These US collection rates are similar to what we are seeing at Simple Home Property Management Group in the Grand Rapids, MI area. We do see a higher collection rate of around 96% for the tenants we place vs the ones we didn't.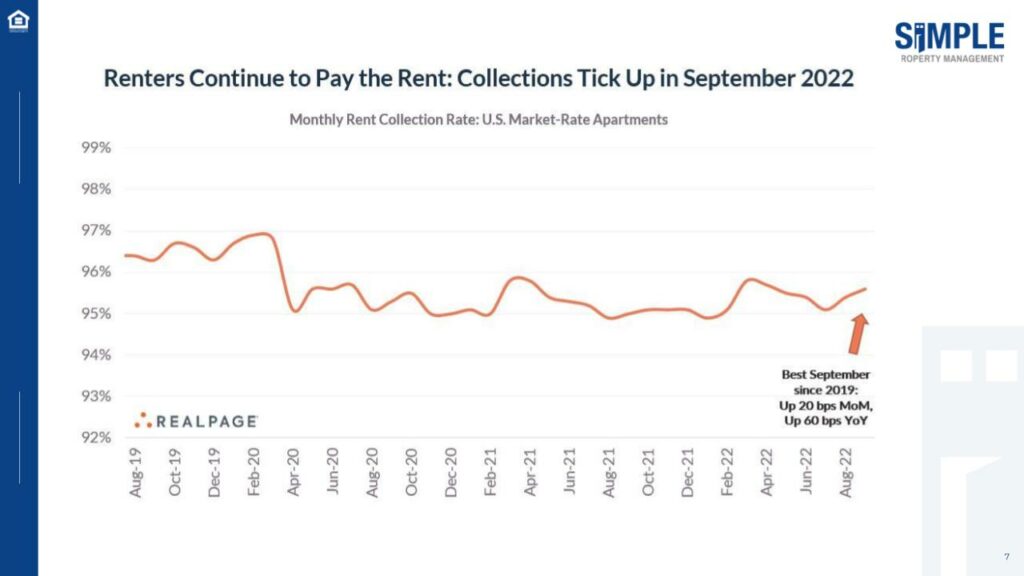 Amenities that Residents Love
People tend to look for specific features of a property when finding a place to rent, and these tend to be the same things people are looking for when buying a home. Their priorities include:
Kitchens/Bathrooms – They don't have to be overly extravagant, but make them nice.
Washer/dryer hookups – These are particularly important for 3+ bedroom units.
Central AC – This is such a big must-have item that you may want to consider adding central air to your unit when updating your property.
Occupancy Rates
The occupancy rates did dip back down to pre-COVID levels, but overall it remain high at around 95%-96%.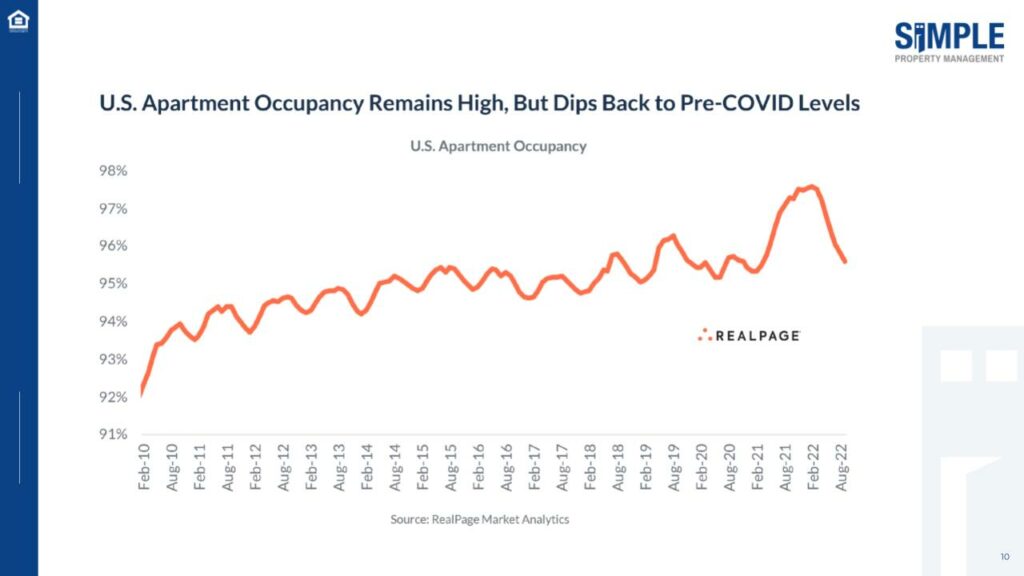 After experiencing record high demand in 2021, we are now seeing demand for apartments in Q3 fall into the negative numbers for the first time in 30 years. Learn more at U.S. Apartment Demand Plunges in 3rd Quarter as New Leasing Stalls More than Expected.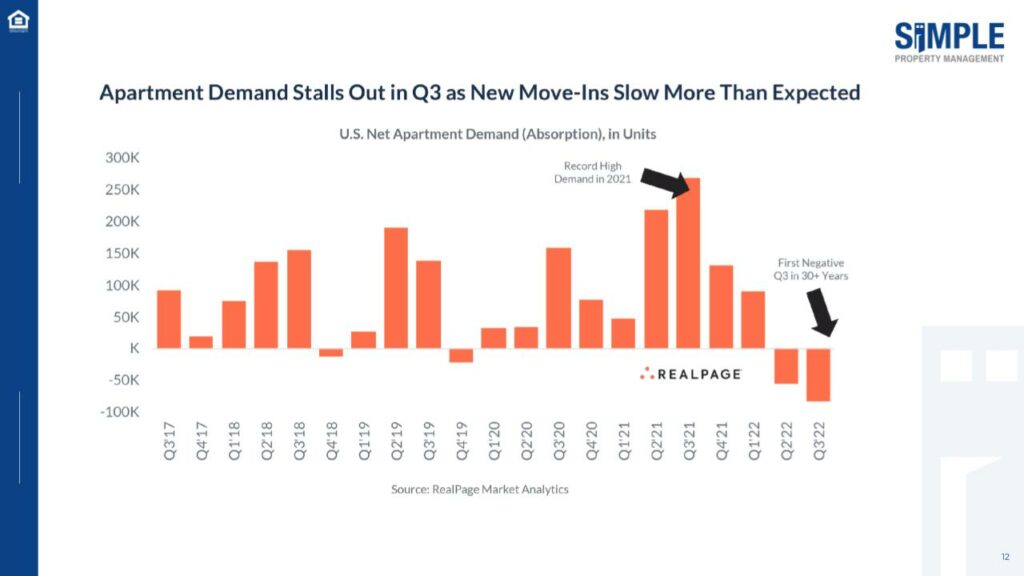 Why are we seeing a slowdown?
Renewal Rates
Apartment renters continue to renew leases more than normal (54%) but not as much as the peak (58%) we saw last year. This is contributing to the slow down of people looking to move.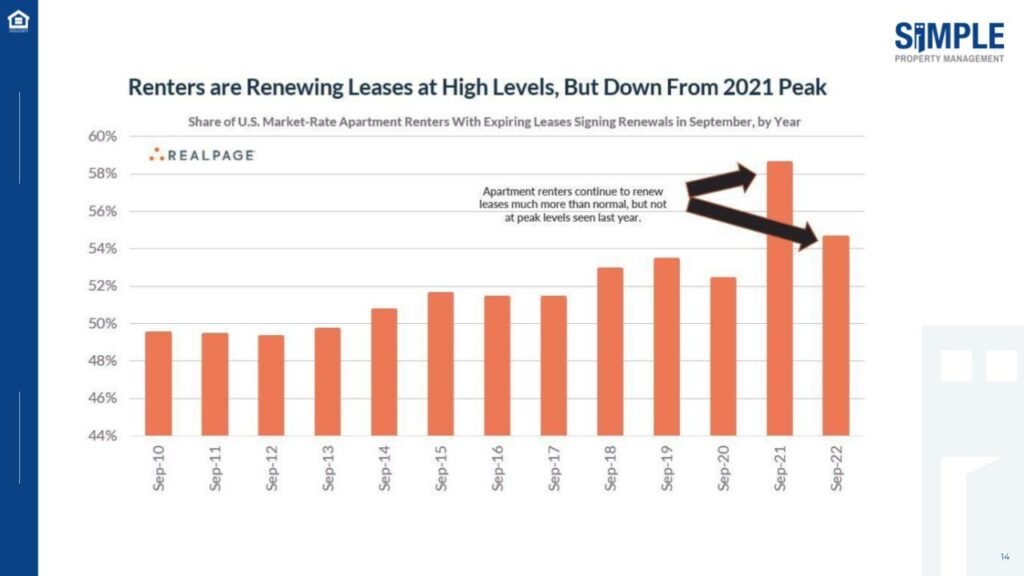 Fall / Winter General Maintenance Tips for your Rental Property
Furnace checkup – Change the furnace filter and complete a maintenance check of the unit.
Exterior fixes – Fix any siding, window, or roof issues that could become an issue during the winter.
Quick lookover of properties – This is a great time to check in on the properties you manage. If you can't make it out to each one, at least give the tenant a call to check that everything is in good shape going into winter.
Reminders for residents to prepare for winter
Send out a letter to residents to remind them to do a few things to ensure their home is ready for the colder season. We include tips like:
If you leave your home, keep the temperature at least at 62-65 degrees. If you are leaving for an extended amount of time, arrange for a family member or friend to check in on the home to ensure it is heated and there are no issues.
Outside spigots – Make sure hoses are unscrewed.
Check that the oven and stove are in working condition 1-2 weeks before Thanksgiving. Getting appliances fixed during holiday weeks can be difficult if not impossible.
Fall/Winter Rental Property Marketing Tips
Demand for rentals drops during the Fall/Winter months, so you want your property to stand out. Here are a few marketing tips to get your rental property filled in the off season.
Drop the rental rate. Even a $25 rental rate drop can make a difference.
Do a move-in special. A great special to offer is half off the first month's rent.
Offer to refund some of the move-in costs like crediting the application fee towards the first month's rent.
Make improvements based on stats. For example, if your homes aren't showing, figure out why. Maybe your photos aren't high quality. Make the appropriate adjustments to improve interest in your properties.
Provide useful amenities that people are looking for like washer/dryer hookups.
Looking for a property management company in Grand Rapids?
If you have questions about the rental property registration process or other property management questions, feel free to reach out to Jon at jon@simplepmgroup.com or (616) 329-6318.