Navigating City Rental Inspections in the City of Grand Rapids
In this video, Jon walks you through a rental property and points out the things the inspectors are looking for so you know what to expect. Fixing any issues ahead of the inspection can improve your chances of passing.
Grand Rapids City Rental Inspections
Scheduling the inspection
The city will send you an email or letter notifying you that they need to do an inspection on your rental property. This is why it is important to register your rental property in Grand Rapids. If you haven't already done the registration process, find more information about the Rental Certification Program.
You typically have up to 3 months from the date of the notice to the inspection deadline. Having the inspection done while the property is vacant during a turnover is preferred, but that isn't always an option. You will need to schedule the inspection and alert your resident. About four days before the inspection, send a reminder to your resident. You must give them at least 48 hours in advance of the scheduled inspection.
What they are looking for in a rental inspection?
Check out this Basic Requirements for Certificate of Compliance which gives a check list of items they will be inspecting.
Prepare for the inspection
Have a few spare smoke detectors, lightbulbs, etc. on hand
They will give you two weeks to get the work done. If you can't complete it in time, they will give you a NOV (Notice of Violation). The NOV will give you more time to fix any problems, but it will cost you more money in fees.
What they are looking for in a rental inspection
Check out this Basic Requirements for Certificate of Compliance which gives a check list of items they will be inspecting.
The more significant items they will be looking at include:
Doors
The front door and screen door should be in good condition.
Deadbolts should be on all exterior doors of the property. Note: The city doesn't like to see double-keyed deadbolts (keyhole on each side of the door).
Make sure you have a working light outside every entrance to the home.
Closets
Closet doors should open and close properly.
If you have a light inside the closet, it must have a globe. This applies to all the lights in the home.
Bathrooms
Make sure there are no leaks under the sink.
The toilet should work well and be secured tight to the ground.
There must either be a operable window or a fan that works.
The shower should work and drain well.
Hallway
They will want to see a smoke detector outside the bedrooms. (One detector can cover the area outside bedrooms that are near each other).
Bedroom
There must be a smoke detector in each bedroom, and they cannot be in a corner. Whether it is on the ceiling or the wall, it must be the recommended distance away from the corner of the room.
Bedrooms must be at least 70 sq ft. and 7ft height.
There must be at least 2 outlets on separate walls.
Walls must be in good condition.
There must be a heating source.
Windows
All windows that are accessible from the ground floor need to have pins for safety reasons.
The window must be able to open, stay open, and be locked.
Blinds need to be in good condition.
Kitchen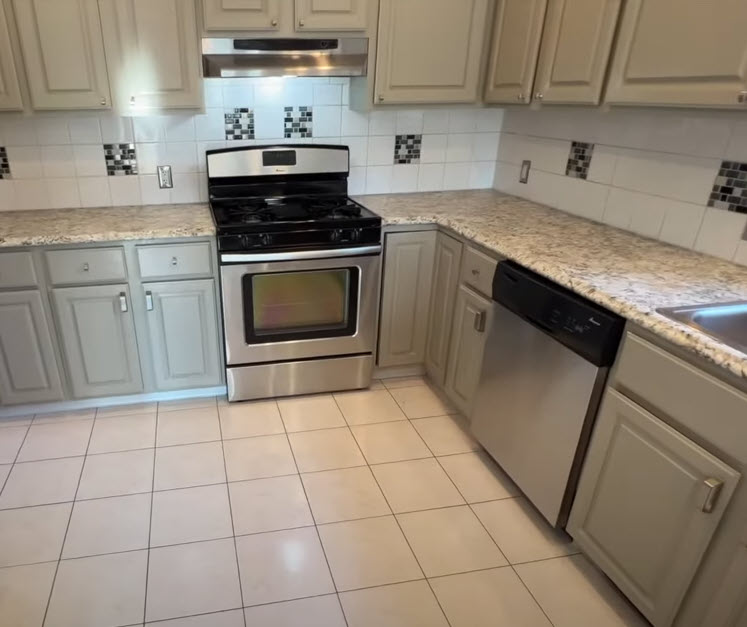 Burners on the stove and the vent fan should work.
The oven light should turn on.
The kitchen sink faucet should run without leaking at the base.
There should be no leaking underneath the sink.
The countertops and cabinets should be in good condition
Garage
The garage door should be in good condition and the garage door opener should be operational.
The door to the exterior should have a deadbolt.
All wiring should be done correctly so there are no open boxes.
Basement
A smoke detector must be installed. The inspectors also like to see carbon monoxide detectors on each floor of the property. This can be solved by using a combined carbon monoxide/smoke detector.
Check that your breaker box is in good condition and accessible.
Basement windows should be in good condition.
Outlets need to be in good condition.
If you have a sump pump, it needs to work and there shouldn't be any water in the basement.
There should not be any open electrical junction boxes.
Water Heater, Furnace, Etc.
These units and systems must be inspected by an HVAC specialist to ensure they are safe and operating correctly. They will submit their report to the city, and you can check the status yourself by logging into the city website.
If you have recently installed a new furnace or water heater, they will want to see that you had a permit and that it was inspected and passed after installation.
Vents from the dryer need to be hard piped.
Outside the property
If you have a deck, make sure it is safe and in good condition.
Any handrails that people would use to traverse stairs should be well secured.
There should not be any paint chipping.
A working outdoor light should be at every entry point (door).
Downspouts need to be in good condition.
Landscaping should be trimmed and free of trash.
Window screens should be in good condition, and there should be at least one screen per room. We recommend putting screens on all the windows.
The driveway should be in good condition.
The only furniture outside should be actual outdoor furniture. You can't have furniture meant to be for indoors outside.
All exterior structures including the garage or a shed should be in good condition.
The key is to stay on the city's good side and take care of any required repairs quickly. If you already had the property certified 4 years prior, hopefully you will qualify for the 6 year certification. Unfortunately, you cannot get a 6 year certification the first time you go through this process.
Looking for a property management company in Grand Rapids?
If you have questions about the rental property registration process or other property management questions, feel free to reach out to Jon at jon@simplepmgroup.com or (616) 329-6318.